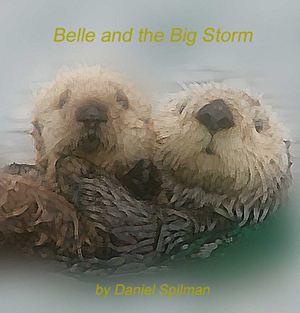 Belle and the Big Storm
Daniel Spilman
© Copyright 2009
For Elizabeth Rose
Love,
Doc
When Doc woke up he didn't know that today was going to be one of his two most special favorite days forever. Doc did his usual morning activity, he stretched, looked at the color of the sky, turned toward the rising sun over the mountains, rolled on his belly and looked across the water, and then took in a deep breath and made a long deep dive under the kelp forest. He swam deep into the forest of kelp trees, past the leaves and thick swaying stems, down to where the water was darker and wrapped him in a cool blanket, and at the very bottom he searched until he found what he was looking for. "Ah hah! Breakfast!" he thought and he grabbed the crab and returned to the surface.
When Doc's head broke the surface he quickly looked around in a full circle to make sure no trouble was lurking. But just as he had moved about half around he heard a giggle, and across the forest he saw the biggest, brightest, most magical smile he had ever seen. He swam over toward the giggling girls and he again saw the special one, she let out a laugh toward her friends and her entire face smiled, her big brown eyes and her little brown nose and of course her beautiful mouth. And before Doc knew what he was doing, he handed her his breakfast prize, the crab he had just caught.
This brought on another crowd of giggles from the girls and another smile from the girl, who gave Doc a little wink of thanks and burst into more giggles. Doc was a little bashful and at this point and his stomach was grumbling for his breakfast so he decided to take another dive down into the kelp forest. Once again he enjoyed the change of color as he descended into the depths and the sudden switch from warm to cool dark water near the bottom. He searched for his meal and saw a delicious red abalone behind some cucumber coral. He grabbed and with a good tug seized his prize and headed back to the surface. But something funny happened, as he rose up from the depths he kept thinking of the smile on that girl otter. And when he broke the surface his grumble in his stomach was replaced with a tickle when he saw her across the kelp bed. He paddled over to her and once again handed off his breakfast to her. She gave him that bright big smile and a wink, he felt a little embarrassed and then turned and paddled off and descended under water once again.
This went on throughout the whole morning and day. Every time he went under water and found a new treasure he brought it to the top and gave it to the girl otter with the pretty smile. He wasn't sure why he did it, he just wanted to. Finally, near the end of the day the otter girl had quite a feast around her, more than she and her friends could eat in a week and then she saw Doc rise to the surface and he looked tired. So she swam over to him and with her big smile said, "Well, I think it's time we met. My name is CC and I am very pleased to meet you, and thank you for the delicious banquet." And Doc said, "my name is Doc and I am very pleased to make your acquaintance as well." In the background a chorus of giggles erupted and all of CC's friends yelled, "Hello Doc!" As Doc paddled away at the end of the day and waved goodbye to CC he knew this was one special day he was never going to forget.
Over the next days and weeks Doc would dive for food for CC and her friends. Between dives CC would ask him about how he became such a good hunter, and he would tell her about the deep sea bottom and how to find the best goodies. And CC would tell him how all the different animals in the Bay helped take care of each other. She would tell him about things she learned about the fish and the seals and the dolphins. She even knew about the whales that shared the water with them and even the shrimp and crabs and krill. She told him about how it all fit together so he could be so successful on his forays into the deep.
The days grew into weeks, the weeks grew into months and soon everyone knew CC and Doc were inseparable. Everyone knew about their little area of the kelp bed and everyone called it CC and Doc's sea otter home. One day, CC felt a flutter in her belly while Doc was diving for breakfast. As soon as he broke the surface she said, "Doc, I've got some special news". And Doc knew there must be something pretty important going on because CC's big smile was different today. It was a smile with a hint of knowing something very special. "Doc, we're going to have a pup!" Doc was so excited he dropped the whole mornings catch.
Doc and CC worked over the next weeks and months to prepare their home for the upcoming baby. And as time got closer to that imporany day CC noticed it was harder and harder to do things. So Doc made sure to take care of everything. He would dive down and get her extra special deep sea treats. In the evenings he would run his paws through her hair, and clean away the bits of kelp that was stuck there. And then the big day came. And this time Doc knew this was going to be one of his most special favorite days of his life. CC told doc to wrap her in kelp to support her weight, and he did. And then she began a series of yelps and barks. Doc was worried she was in pain and he rubbed her paws and cleaned her face and held her steady. And suddenly, up onto CC's chest crawled a tiny ball of fur. The eyes were stuck closed and Doc wasn't sure it looked right, but CC with a knowing smile lifted the pup set her to the warm soft fur on her chest and the baby pup took a long deep drink of milk. With the most amazing care and gentleness CC cleaned the pup and kept her warm and safe. Shortly thereafter the pup fell asleep in CC's warm fur. CC looked at Doc and said "I want to call her Belle, because she is the Belle of our love", and Doc smiled and wrapped his furry tall and strong paws around the two most important otters in his life. And thus ended the second most special favorite day of Doc's life.
Belle woke up the next morning and CC immediately placed her in the spot where the milk was sweetest, and she drank long and deep. She fell back into a deep sleep. Each time she woke up she had more milk and saw a little more of the world. Colors started to appear in front of her eyes. Light blues and deep greens, warm yellows and reds. And the sound of the world entered her ears as well. First she just heard the cooing from momma and daddy. But, with time she began to notice other sounds as well. The wind blowing across the water and the wash of the waves over the kelp. She began to even hear the calls of the other animals. She just didn't know what they were. But she listened and watched and drank her milk and grew. And then one day she experienced magic. Daddy dove deep under the water and he rose up holding a round shiny object. In the center was something pink. He pulled a piece away and handed it to momma. Momma put it in her mouth and chewed and then put it in Belle's mouth. All of the sudden Belle could taste colors. Colors that rolled around her mouth and into her tummy. She looked up at momma and daddy and they both made whoops of laughter. "Look CC, her smile is just like yours! And, I think she's a big fan of our abalone."
Now whenever daddy went under the water and rose back up with treats Belle was able to share in the feast. Then one day she felt the air in her chest rise up into her throat and out came "ma!" and the another burst of air and "da!". But her third word was the one that Doc said was the one to really define Belle. For the third word was "what?" and the question was accompanied by a look of curiosity. And from that day forward every new word was preceded by "What?"
Doc and CC would laugh into the night after Belle was asleep talking about her questions. "Daddy, why is the sky blue?" and "Daddy, where do the waves come from?" and "Daddy, what's it like under the water?" Question after question from morning until nightfall. At the end of the days Doc and CC were exhausted from teaching little Belle the answers to all of her questions and they would fall into a deep sleep.
Belle got bigger every day and soon it was time to teach her more practical things. So daddy took Belle to the shallower parts of the kelp bed and he taught her how to hold her breath and look under the water. Then he showed her how to dive along the kelp fronds and how to use them as a guide to the bottom of the ocean. And as Belle got better at holding her breath she was able to dive deeper and deeper. And with each dive she saw more newer and magical things. And when she was on the surface with momma, momma would teach her how all of the animals and plants live together in harmony. How the sun makes the kelp grow and how the little animals like tiny worms eat the kelp and the bigger animals eat the tiny ones. And she explained how the shell fish used their hard shell to keep them protected so only the big animals like Doc could pry them open for food. And Doc and CC taught Belle how to stay safe. "Watch out for the sharks, they eat everything" momma and daddy would say all of the time. "Stay in the kelp forest where you're safe and protected".
Then one day, the weather began to change and the wind began to blow. The water became much colder and the sky changed to crisp blues or dull gray. The water started to have waves and became much louder. Belle was with her momma this day when she saw an animal she had never seen before and no one had ever told her about. The animal was really big, with long legs and long arms and small paws and feet and no tail. But what was especially unusual is that the animal had no hair. None at all. And it was real noisy. Noisier even than the barking sea lions on the rock. And this animal and it's friends were splashing in the water and jumping on bright colored logs. One of them was on a big flat shiny log the color of the blue in the sky on a warm sunny day. And it was standing on its hind legs and the front arms were pulling a stick in the water toward Belle and momma. Momma said "Stay away, those are humans and their very dangerous!" But, Belle's curiosity was too strong and she began to swim toward the human. As they got closer together the human started pointing at her and shouting to his friends. He had a smooth face and big brown eyes like daddy's and he looked nice. They got so close that Belle could touch the big flat log. It was smooth and shiny on bottom and sticky and sweet smelling on top. Belle was so engrossed she couldn't hear momma yelling "No, stay away Belle. He's going to hurt you get away!" Belle use her little paws and she pulled herself up onto the log. The human leaned down and reached toward her. He was making cooing sounds just like momma did when she was just a baby. Belle was going to let him touch her when all of the sudden momma made a "Hiss!" a sound Belle had never heard come from her mother before. Momma was splashing around her and screeching and hissing "Get off now! Right now!" Belle looked at momma and she looked at the human, and back at momma. Momma was really mad now. So Belle made a couple of paddle moves with her arms, and she hopped off the shiny log and momma swam over to her and grabbed her on the back of her neck with her teeth and pulled her far away.
That night Belle was given a very stern lecture by her mother and father. She was not to disregard her mother again. The rules of the home are for her safety and she was to follow them. But, especially, never go near the humans again. Daddy explained that the humans look soft and kind but they don't belong on the ocean. They are from the land and when they come into the ocean they don't treat it with respect. When they are in the ocean they take more than they need. And they aren't careful. They use big noisy machines and otters have been seen being hurt by the big machines. "The humans may not look like sharks, but they're just as dangerous" said daddy.
From that day on Belle stayed close to momma and daddy. Anyway, the humans weren't around anymore. The water calmed down and the winds calmed down and everyone went back to the routine. Daddy dove and momma taught and Belle played and learned. One day daddy came back from the depths and said "CC, Belle, the weather is about to change. We need to make sure that we are safe. Big winds are going to come soon and the waves will become very big. We need to eat extra food because it will be hard to catch food when the changes occur. We have to stay in the kelp forest. If the water becomes angry we wrap ourselves in the kelp to keep from being tossed away from each other. We have to learn to be one with ocean. When the big waves come we dive under the water and hold onto the kelp. When the waves pass on we come to the surface and rest. Today we practice!" All day they practiced, even though the weather was beautiful and the sun was bright and the sky was clear. But, Belle was scared that night and she had bad dreams. She paddled over to daddy and he placed her on his chest and wrapped his warm furry arms around her. Daddy said "Don't worry Belle, I will always be here for you. You just listen and stay near me and momma and you will be just fine."
And everything did seem fine. For days the weather was clear and sunny. The water was calm and the food catch was especially good. And Belle began to play a little further from the center of the kelp forest. In the distance she could see the humans again on their shiny logs. They would move their arms and legs and the waves would come up behind them and lift them up. They would disappear and it would look as if the wave and water had eaten them and all of a sudden they were standing on their hind legs being chased by the waves. Belle didn't know how long she had been watching the humans but she suddenly noticed the light was starting to fade and the wind was picking up.
Things began to change very fast. The air became very cold, and thick gray clouds filled the sky. All of a sudden water started to fall from the sky and the ocean began to shake and froth. The kelp began to sway and waves started to form right where Belle was. She held onto the kelp but with the bigger waves the kelp would break loose. She didn't understand what was happening, but whenever the big waves came the kelp would tear free and she would be moved further from the kelp forest. It became more difficult to paddle back to the center of the kelp. She even tried diving underwater and holding on but the kelp here was weak and would break over and over again. The winds began to howl, and the water from the sky began to move sideways. Belle dove down for cover but when she returned to the surface she saw a huge wave. She didn't have time to dive again and the wave picked her up to the sky. She was as high above the ocean as she had ever been. She could see far in all directions and all she could see was gray and white and all the sudden she felt herself tumbling over and over and over. She was pushed under the water and rose up just in time to get a breath before she was thrown again by another wave.
She was tossed and tumbled for what felt like forever. Finally she landed in an area where the kelp was thick and strong. She held on as tight as she could. She dove under the big waves and came to the surface during the breaks. She did this over and over into the night. And she was exhausted, and scared. But she remembered what daddy said and she followed his words. And she did NOT give up.
Finally, morning came. The seas settled down and the golden morning sun rose. Belle took a look around. She knew, now was the time to head for home. But nothing seemed right. This wasn't her kelp forest. Daddy had shown her how to guide herself by looking at the mountains and the morning sun but nothing was familiar. And Belle became very scared.
First, she paddled to her right, then, she paddled to her left. She dove under the water and she went above the surface but nothing seemed right. Her heart started to beat faster and faster. Her eyes felt wet and tears started to flow. And she started to cry. Her cry was like a little "mew" with a lot of hiccoughs and sniffs. And she just paddled in circles scared and sad wondering how she would ever find home.
Suddenly, she heard a splashing sound. She looked up and she saw that big blue log she had seen so many days ago, with the human with the big brown eyes on top and the long stick in his hands. And now she became even more scared because daddy had said the humans were as dangerous as the sharks. Belle rolled onto her back and paddled backwards as fast as she could. But no matter how fast she paddled the big human just made a couple of moves with his stick and he caught up to her. Now, he was making some noises. The same cooing noises he made the first day she saw him. And his big long arm was waving to the top of his log. He sat down on the log and he patted the top. She could tell he was trying to tell her something but she was very scared. The human made his eyes very big soft and gentle and he smiled and very softly he spoke while patting the top of his log. And, Belle decided to move toward the log. And as she did he smiled wider so she came closer and then before she knew it she was sitting on top of the big blue log.Very slowly the human stood up and with his big stick he began to paddle out to the sea.
Meanwhile, Doc and CC looked exhausted. Their eyes were red from crying and their throats hurt from shouting and their arms and legs ached from paddling all night looking for Belle. Doc told CC to stay in the kelp. He was going to go far from the forest in search of Belle and he did not want to risk CC getting hurt. Doc promised he would return before dark. Off he paddled into the distance. Doc paddled for what seemed like hours. He went to parts of the Bay that he hadn't been to in years. He swam up to his old sea otter friends and asked if they had seen Belle. But, no one had. Everyone had been scared by the storm and they all said they would keep a look out. They all knew the kelp bed that CC and Doc lived in and they promised to bring word. But wherever Doc went he had no luck.
The sun began to fade towards the west, and Doc remembered his promise to CC. But, he wanted to try one more area, a place around a rocky point where he knew the waves could get very
big in the storms. So Doc paddled on and he turned the corner. In the distance he saw a human. This one was standing tall on one of those flat logs with a big long stick in his hands and he was moving toward Doc. Doc became very worried and was just about to turn and paddle away when he noticed on the end of the log was a brown furry ball. And, immediately Doc knew. He paddled over as fast as he could and caught up to the human and his big log and on the end of the log sat Belle. And Doc let out a loud bark and Belle looked up to see daddy staring across at her. Belle eyes became big and bright and her smile shook her from head to toe and with a big cry she jumped to her daddy.
Daddy wrapped her in his big furry arms licked her head and face to clean her off, and he wiped away her tears of joy. Doc looked over at the human and he beat his tail against the water three times in thanks. The human seemed to understand because he lifted up the long stick and waved it in the air. And then he turned and paddled toward land.
Doc carried Belle home on his back. The paddle was long and hard but Doc barely noticed he was so happy to have Belle back. Soon it became dark and the stars and the moon came out, but Doc kept on paddling. Eventually after many hours they made it back to the edge of their kelp forest and Doc could hear CC in the distance calling "Doc, Belle, come home, Doc, Belle, come home". And with as much energy as he could muster Doc yelled "Were back, were back and I have Belle!" CC paddled out to the two of them and the hugged as tight as they could.
It took a while for everybody to settle down and relax and wipe away the tears and to finish the hugs and kisses. And then Belle began, "Momma, I was lifted up on the biggest wave ever and I was carried toward the sky and I rolled over and over and over, and I held onto the kelp and bounced up and down all night long and in the morning a human on a big blue log came over and I got up on his log and he talked to me and he paddled me toward home and all I could remember was all the things you and daddy told me and I tried to do them all, I really tried." And Belle started crying again but much more softly and gently into momma's chest, until she fell into a deep warm sleep. Doc and CC looked into each others eyes and down at their child and simultaneously let out a contented sigh now that the family was once again safe and together
About the Author
Daniel Spilman is a physician living on the California coast. He grew up in Michigan and is a graduate of the University of Michigan for both undergraduate studies and medicine. He is an avid surfer and snow boarder and one day his wife asked him to write a story for his soon to be born daughter Elizabeth Rose. Just that day Daniel saw some of the characters depicted in this story. As the story unfolded Daniel realized that this story would be a gift not only for his daughter Elizabeth, but for all children who enjoy and dream about the ocean. This is just the first of many adventures of Belle, the sea otter pup.
Keep your eyes open for the next book in this series. Also, soon there will be an illustrated children's book available in your local bookstore.
If you enjoyed this story correspondence can be sent to surfingdr@gmail.com